Summer in Vuokatti is something else. Enjoy the silent nature trails on the hills or feel the adrenaline on a jeep safari. Recharge on the gorgeous Hiukka beach and top off the evening with bowling.
Experience the summery Vuokatti
Those who think of Vuokatti only as a winter holiday destination have not yet experienced the summer in Vuokatti. Diverse nature and water activities make every visitor wish for a longer holiday.
The beginning of the golf season also signifies the beginning of summer. Holiday Club Katinkulta has high-quality golf courses that offer memorable experiences for players of all skill levels. The 18-hole Championship-level Nuas course provides a challenge in the lakeside scenery. The 9-hole Tenetti club course features diverse fairways and the course can be played flexibly. The Vuokatti par 3 course gives everyone the opportunity to try their hand at the sport. Learn more here.
If golf is not your thing, there are plenty of other activities available. On a warm summer day, there's nothing like recharging on Hiukka's beautiful sandy beach or heading to Vaaran tupa for an afternoon cafe with Vuokatti slopes' scenic lift. If the weather happens to be poor, you can challenge your family in Go Vuokatti's Escape room or SuperPark's activities.
The best thing on holiday is sitting down to a set dinner table. Vuokatti Sport's O´las restaurant has one of the most diverse lunch buffets in Vuokatti. Break Sokos Hotel Vuokatti's restaurant Kippo serves food prepared with local produce from Kainuu and the surrounding areas. If you are looking to try something new and love nostalgia and good food, you should check out the menus of Restaurant Ainoa at Hotel Aateli.
The nature of Vuokatti invites travellers to relax and enjoy breathtaking scenery. Vaara's diverse trails have something for everyone, including the youngest in the family. Get your picnic lunch from the Vuokatti K-supermarket and grill your sausages at the Jäätiölampi lean-to, which is easily accessible with a stroller.
In summer, you should also add the beautiful Hiidenportti National park on your to-do list.
Find your favourite accommodation option from Vuokatti's diverse selection from the link below.
Things to do and see nearby
VUOKATTI SLOPES
Take the scenic lift to Vaaran Tupa café
In summer 2023, the scenic lift is open as follows:
Sat-Sun 17–18 June
Wed 28 June
Sat-Sun 1–2 July
Sat-Sun 15–16 July
Sat-Sun 29–30 July
Sat-Sun 5–6 August
The lift is open from 11 a.m. to 4 p.m. The lift is closed during thunderstorms.
Tickets can be purchased at the lower station of the lift at Veikontie 3, 88610 Vuokatti. Accepted payment methods include cash, bank cards and credit cards.
Vaaran Tupa opening hours
21 June–12 August 2023 from 11 a.m. to 5 p.m.
---
LOMARENGAS
Cottage holiday in Vuokatti
Summer essentials include a cottage, beach and time to relax. Schedules are not important, and you are free to do whatever you like, whenever you want. Finland's oldest and largest holiday accommodation rental company, also rents cottages in Vuokatti. The selection includes everything from cottages by the beach to ski cottages and from luxury villas to wilderness cabins.
---
HOTEL VUOKATTI
Top-quality accommodation by a lake
The gorgeous Hotel Vuokatti is located on the shore of Lake Nuasjärvi. The private hotel and high-quality apartments form a peaceful Resort complex with a wide selection of services. The Honkalinna sauna in the courtyard and the outdoor pool are available for customers. The hotel has its own beach, so you can also swim in the lake.
---
VUOKATINMAA
A holiday destination for the whole family
The peaceful location of Vuokatinmaa on the shore of Lake Nuasjärvi provides the setting for a successful holiday. Enjoy high-quality accommodation and diverse services in the area. In Vuokatinmaa, you can play minigolf in summer, and there is a special playground for children. You can also rent a SUP board and go to the lake, as Vuokatinmaa has its own beach.
---
SUMMER IN KAJAANI
Market life and culture
The city of Kajaani is located only half an hour's drive from Vuokatti. In summer, Kajaani offers a wide variety of cultural events and festivals. For example, the Kainuun Music festival, which is organised in June, attracted more than 10,000 visitors last year. Another popular event is the Poetry week in Kajaani, which will be held for the 47th time next July. In addition, the many museums, exhibitions and theatres in the area ensure that there is something to see and experience for everyone.
HOTEL KALEVALA
Comfortable accommodation in Kuhmo
Ho­tel­ Ka­le­va­la is open all year round, offering unforgettable experiences, good food and excellent service. The ho­tel­ is located on the shore of Lake Lam­mas­jär­vi, about 3 ki­lo­met­res from the center of Kuh­mo and about 70 kilometres from Vuokatti.
Hotel Kalevala's popular sauna department has a wellness department for relaxation as well as indoor and outdoor jacuzzis. The services also include a peat sauna, an infrared sauna, pampering baths, massages and traditional Finnish bone setting.
MANOR HOUSE HOTEL KAROLINEBURG
Manor life in Kajaani
The beautiful Manor House Hotel Karolineburg is located just half an hour's drive from Vuokatti. Enjoy the rich history and unique milieu of the manor hotel, which is more than 180 years old. The accommodations are located in three different buildings, all in the fenced courtyard of the protected manor building. In the morning, you can enjoy breakfast in the elegant main halls or on the terrace of the French manor garden.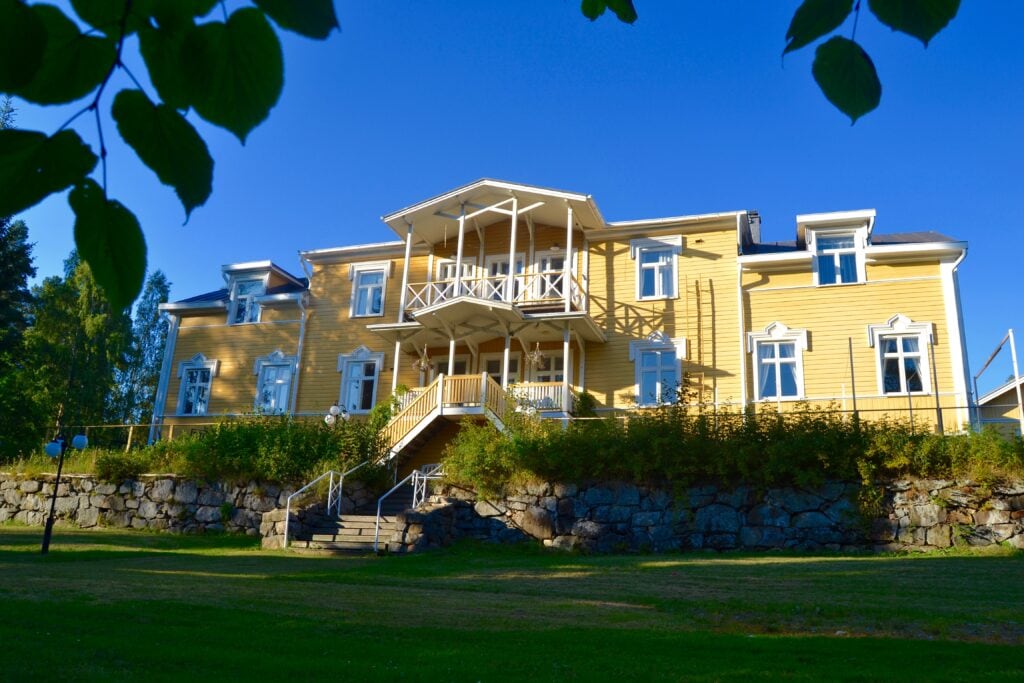 ---
There are also plenty of other things to see and experience in Vuokatti.